Win a FREE Box of UndiePads!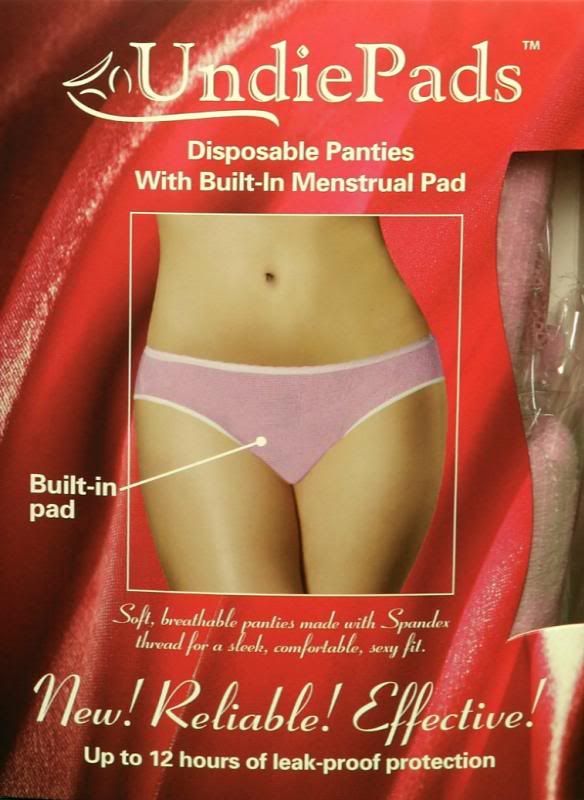 The Pretty, Practical and Pristine Solution to an Age-Old Problem. Protection you can count on!
The average woman owns approximately 21 pairs of underwear, approximately 10% of women own over 35 pairs! I wonder if that is because we are always worried that the dreaded crimson tide will inevitably stain a majority of them? Maybe, we can just never find the right fit. I must own a million ill-fitting pairs of underwear, 30 or so lingerie outfits, about a dozen G-strings/thongs, and at least 20 pairs of Granny Panties! (I know, I know, but I have NEVER been average! LOL!) Now an innovative new product is available to free up space in our drawers and worries on our minds, UndiePads!
UndiePads are a unique disposable panty with a built-in menstrual pad that provides safe, fresh, all-in-one, leakproof protection. Even on the heaviest days. They provide absolute leakproof, stainproof security! Discreet Toss 'N' Go Bags are included and make disposal easy and efficient. The panties themselves are light, comfortable and designed for a beautiful fit. The unique fabric provide plenty of stretchy support, fitting close to the body for a sleek silhouette and providing just enough stretchy support to gently disguise the bloat that sometimes accompanies a menstrual period. UndiePads discreet design helps reinforce a feeling of confidence. The super-absorbent, extra-long pad is part of the integral design. It won't slide or slip, it stays where it should, and is so comfortable, it's easy to forget it's there!
One of the biggest issues women struggle with when choosing between wearing pads or tampons at that time of the month is visible panty lines (vpl). 10% of women have confessed to occasionally having gone "commando" to avoid visible panty lines. VPL can ruin any good outfit, while invisible panty lines will help to enhance your looks by making your figure seem sleeker and sexier. To avoid this common fashion faux pas when choosing a pad option you can wear UndiePads. They are far more comfortable than traditional bulky sanitary napkins, or the winged alternatives, and have a reliable track record when it comes to leakage problems.
My usual routine is to wear a period pad during the day and then switch to a tampon at night, in order to avoid leaks. The big test for me, obviously, was going to be just how good UndiePads worked throughout the night. Before bed I slipped on my new underwear and a tank top, not adding any extra layers between the cute pink panties and the crisp clean sheets, and they felt great. After a night of tossing and turning around I woke up to find that I hadn't leaked one bit! In fact the UndiePads were so super dry and clean I could've worn that same pair the rest of the day, no problem.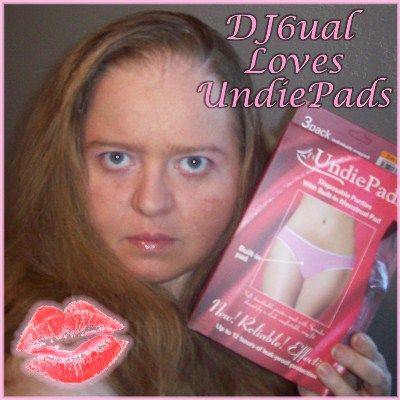 The UndiePads provide moderate to heavy period protection, quick absorption, and neutralize that nasty period odor. Apparently, you can wear it for up to 12 hours. I don't think I would go a full half a day unless I had too, but it's nice to know I could if I needed too! To avoid urinary tract infections (among other things, such as keeping the genital and urinary areas clean), physicians recommend changing underwear at least once a day. Doesn't everyone change them? I don't wanna think about that! Ewww, LOL!
It isn't a subject that most women talk about, but I know that I don't feel sexy when I'm on the rag. It is not a pretty subject, and can probably be sugar coated a bit (that's not me!), but when your aunt flo is in town most of us aren't looking to be in any beauty pageants! I know my man hates it, so there has to be others out there too. Isn't it about time we do something about it? I want to feel sexy even when I am on my period! UndiePads have answered this dilemma for me.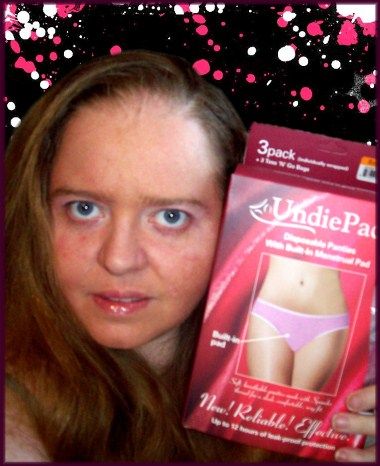 After all when I have PMS I want to be pampered, so why not do that by giving my vagina a "treat", lol. Slipping on a new pair of UndiePads is like slipping on a new feeling of luxury! What could be sexier than that? Soft and breathable panties made with Spandex thread makes UndiePads have a sleek, comfortable, sexy fit. The outside of the undies are a pink and fuzzy material (maybe terrycloth, but not your grandma's terrycloth) and the inside has an extra-long hidden pad. If your vagina could smile, it would!
The Good Stuff about UndiePads:
UndiePads Disposable Panties with Built-In Menstrual Pad are the newest, freshest and most stylish way to make those days of the month a whole lot easier. They look and feel like your regular panties, provide gentle control, extreme coverage and long-term absorbency with advanced leakage- and odor-protection. UndiePads completely eliminate the dangers of Toxic Shock Syndrome and combine new fabric technology with cutting edge design for a menstrual product that's so complete, so comfortable, and so fresh, you can forget you're wearing them!
* All-In-One convenience!
* Neutralizes odor!
* Extra-long for maximum coverage!
* Stays in place to prevent bunching (No more VPL!)!
* Quickly absorbs fluid to help keep you dry and protected!
* Breathable material designed for a comfortable, secure fit!
* No more stain removal!
The Bad Stuff about UndiePads:
UndiePads are available in sizes; Small (2/4/6), Medium (8/10), and Large/X-Large (12/14/16), but No Plus Sizes!
The average underwear size for women used to be size 8. According to the Centers for Disease Control and Prevention the average American woman, while currently seen as weighing 164lbs. and wearing a size 14, is getting bigger!
The fashion industry is taking notice of this trend, especially when it comes to undergarments. The main brands in the global underwear market include; Calvin Klein, La Senza, DKNY, Princesse Tam Tam, Enamor, Embry Form, Jockey, Victoria's Secret, Maniform, Wacoal Holdings, Gujin, La Perla, Armani, Wolford, Hanes, Fruit of the Loom, Etam, Chantelle, Triumph, AB Underwear, and Lovable. The shift has caused many of these retailers to offer larger size options. Let's hope UndiePads follows suit!
UndiePads were created by women for the everyday woman. There has never been a product, until now, that provides comfort and security in knowing that we women are protected from unexpected accidents. It is the first and only product, designed to help block leaks from side to side, and front to back. No matter which way you toss or turn, you get the maximum leak protection. I highly recommend UndiePads!
Try UndiePads Today!
Available at UndiePads.com & Amazon.com!
To ENTER our GIVEAWAY to WIN a FREE box of UndiePads please do one, or ALL, of the following:
- Leave a COMMENT below about UndiePads (i.e. What other colors would you like to see UndiePads in? Would you use UndiePads?)!

- LIKE the UndiePads Facebook Page!

- Leave a COMMENT about UndiePads on the UndiePads Facebook Page!

- FOLLOW @UndiePads on Twitter!

- TWEET/ReTWEET about UndiePads (using the hashtag #UndiePads)!

- PIN/RePIN the UndiePads webpage on Pinterest!
- Review the UndiePads webpage on ALEXA!
- Write a BLOG about UndiePads and post the LINK to it in the COMMENTs below!
To get ADDITIONAL ENTRIES to our GIVEAWAY to WIN a FREE box of UndiePads please do one, or ALL, of the following:
And now, Just for Fun, to GET EVEN MORE ENTRIES into our GIVEAWAY to WIN a FREE box of UndiePads please do one, or ALL, of the following:
Choose one, or more, of the following links to a popular celebrity photo(s) and; LIKE it on Facebook, Leave a COMMENT about it on Facebook, or SHARE it on Facebook or Twitter (hashtag #UndiePads)!
Good Luck to Everyone!
Remember to Try UndiePads Today!
Available at UndiePads.com & Amazon.com!

I received one or more of the products mentioned above for free using Tomoson.com. Regardless, I only recommend products or services I use personally and believe will be good for my readers.
period, panties, panty, underwear, periods, my period, leakage, urinary incontinence, disposable, how to stop period leaks, leaks, lingerie, feminine hygiene products, undiepads, pantiepads
contest, giveaway, review, product review, free, free stuff, freebie, freebies, free sample, swag, free swag, health, womens health, period, panties, panty, underwear, periods, my period, leakage, urinary incontinence, disposable, how to stop period leaks, leaks, lingerie, feminine hygiene products, undiepads, pantiepads, mom, moms, mother, multiple sclerosis, multiple sclerosis ms, always, menstrual period, menstrual cycle periods, incontinent, menses cycle, menstruating, kotex, attends, tampax, women period, incontinence urinary, pms symptoms, pms, bladder incontinence, urine incontinence, survival sanitary napkins, undie pad, undiepad, undie pads, survival underwear, survival tampons, period underwear, period panties, incontinence, disposable underwear, disposable panty, disposable panties, sanitary napkins, sanitary napkin, period lingerie, lingerie for period, lingerie pads, lingerie pad, time of the month, that time of the month, aunt flo, cousin red, crimson wave, delicate, flow, redwings, have the painters in, in her flowers, late, on the blob, on the rag, rag, red tide, ride the cotton pony, sally, shark week, surf the crimson wave, baby daddy, baby daddy abc, csi, csi miami, dance mom, dance moms, pittsburgh dance moms, dance moms pittsburgh, miami csi, emmys, emmies, oscars, fox, fox news, single ladies, vh1 single ladies, single ladies vh1, step up revolution, the voice, red carpet, undiepads swag, how to get free swag, undiepads fashion