Who in Hell is Krampus?

Krampus is the dark counterpart of Saint Nicholas, the traditional European gift-bringer who visits on his holy day of December 6th, a few weeks earlier than his offshoot Mr. Claus. Like his American descendant, the bishop-garbed St. Nicholas rewards good kids with gifts and treats; unlike the archetypal Santa, however, St. Nicholas never punishes naughty children, parceling out this task to a ghastly helper from below.
Known by many names across the continent, such as Knecht Ruprecht, Klaubauf, Pelzebock, Schmutzli and Krampus, this figure is unmistakably evil; he often appears as a traditional red devil with cloven hoof and goatish horns, although he can also be spotted as an old bearded wild-man or a huge hairy beast. He comes to punish the naughty children, and is often depicted carrying them in chains or in a basket to a fiery place below.
On December 5th and 6th, in Austria, Switzerland, Croatia, Germany and other regions of European, children greet kindly St. Nicholas with his bag of toys and sweets only to find the Saint's devilish assistant trailing behind. Hideously costumed as a devil or wild man with a whipping switch or chains, Krampus comes to frighten the mischievous children into contrition.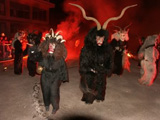 On the eve of St. Nicholas Day, also known as Krampusnacht (Night of Krampus), in Austria and other areas, sin-loving folk dressed as devils, wild-men and witches begin the ancient ritual known today as the Krampus Run. Often intoxicated and bearing torches, these beastly demons caper, cavort and carouse as they make their way through the streets, scaring child and adult alike.

The popular European practice of guising and mumming during the winter solstice season, ie. using masks and drama to play mythic figures, in this case bearded Old Man Winter and the horned Goat-Man, can be credibly traced back tens of thousands of years, long before the purported birthday of Jesus Christ.
Krampus comes of Age
As Santa Claus was expanding shop and selling product in mid-1800s America, the holiday greeting card craze exploded in Europe, with printed cards filling mailboxes and post offices each winter. In Austria, Germany, and other central and north Europe regions, the figure of Krampus became a focus of attention, with thousands of compelling postcards designed and printed for season's greetings, many emblazoned with "Grüß Vom Krampus" (Greeting from Krampus). The peak of the Krampus card craze was from the turn of the century to the beginning of WWI in 1914.
Obviously Krampus represents the naughty side of the season, as sexual connotations abound in the postcards, in countless suggestive and cheeky examples. While the lurid and transgressive images paraded in the cards are suffused with a modern sense of the comic and the surreal, as well as the spirit of Saturnalian excess, some images seem to embody a genuine touch of primordial fear and dark animism.
The collector's market for original and reproduction Krampus cards has been on the rise, and the image of Krampus is popping up across the cultural landscape. This is due mainly to Monte Beauchamp, the editor of BLAB! magazine
and a collector of Krampus and devil-related postcards. He reintroduced the irresistible Krampus cards nearly a century after their heyday, and his The Devil in Design
is the definitive sourcebook for Krampus images.
Santa the Punisher?

Back in America, the rise of a new Father Christmas icon, a modernized St. Nicholas called Santa Claus, plays a central role in recreating the 'traditional' Christmas, a mildly pagan if nominally Christian holiday. The American St. Nick no longer brings his infernal assistant, but instead incorporates some of the elements found in Krampus and his ilk.

This traditional American Santa Claus places coal in bad children's stockings and is occasionally depicted as a punishing figure, sometimes even with a whiff of pagan horror. And like Krampus, Santa seems to knows everyone's moral state, as famously described in the 1932 song 'Santa Claus is Coming to Town': "He knows if you've been bad or good."

But over the decades Santa Claus seems to have lost his punishing edge. In this age of consumerism there are very few children who receive a lump of coal in their stockings, or a gift of cleaning supplies under the tree. Is not the service that Krampus provides sorely needed in the land of spoiled and dissatisfied children?
Krampus on the Comeback

While the guising and mumming traditions of the winter season can be recognized in the ever popular Halloween holiday (with its costume parties and roving Trick or Treaters), a growing movement to celebrate in similar fashion around early December is afoot. The growth of Krampusnacht parties in urban centers like New York and San Francisco seems to be just the beginning.

Santacon, also known as Santarchy, is a world-wide phenomenon started in 1994 by the Bay Area-based Cacophony Society. On a selected day in early December, scores of revellers dressed in cheap Santa Claus suits descend on shopping centers and other public areas to the shock and consternation of the uninformed. The event is now held in cities in the U.S. and Canada, as well as Australia, Korea, Norway, France, Ireland and other countries.

As Santarchy and Krampusnacht celebrations are starting to proliferate, a general bleeding of Halloween into Christmas has taken place in mainstream culture, with the popularity of Tim Burton's The Nightmare Before Christmas
, and other Christmas books, movies and merchandise with horror elements and transgressive themes, such as the ever popular evil Santa Claus.
A Devilish Holiday Season
Although its distant pagan origins are mostly repressed, Xmas gift-giving and its folklore and customs still embody the pre-Christian European winter solstice tradition. In the dark recesses of our cultural consciousness the link between the Goat-horned Devil and Saint Nick is clear. With the rising popularity of Krampus across the globe, we rediscover the potent holiday devil archetype who rules over this age-old festival season.
Source: krampus.com