The State Department is prepared to evacuate thousands of U.S. citizens from Egypt on chartered planes, but is relying largely on friends and families in the U.S. to relay that information to stranded Americans.
Phone Numbers and Web Sites Available Here
Egyptian opposition figure Mohamed ElBaradei put pressure on the United States on Sunday to support calls for President Hosni Mubarak to step down, saying "life support to the dictator" must end.
A lot of anger has shifted to international influences in Egypt as protesters witness "made in USA" labels on the weapons used against them, says Press TV's correspondent.
Jihan Hafiz told Press TV that in Egypt "the police used excessive force to disperse protesters" as over one hundred people have already lost their lives in the past days.
The report comes as Egypt is bracing for a sixth day of protests against President Mubarak's rule.
The protesters have dismissed Mubarak's appointment of a vice-president and prime minister, calling for Mubarak's ouster.
More than 2,000 were also injured in clashes that have rocked Cairo, Suez, and Alexandria.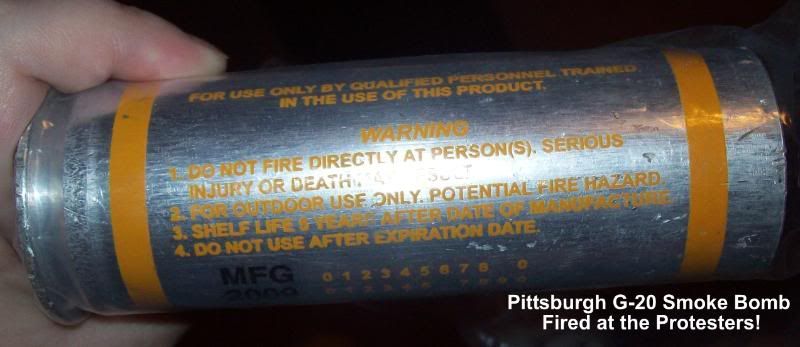 It's pretty difficult to boil down the entirety of the complications that exist between the United States and Egypt into sixty seconds, but this segment offered by MSNBC possibly comes the closest.
Visit msnbc.com for breaking news, world news, and news about the economy
Egyptian Police Tear Gas/Smoke Bombs was not only made in the U.S.A, as MSNBC reported, but it was the same stuff used against the protesters at the Pittsburgh, PA G-20 Summit. The police unlawfully shot these canisters into calm crowds of protesters in Pittsburgh where they also used, for the first time on US soil, the LRAD resulting in permanent hearing damage for many innocent bystanders. If, and dare I say when, unrest comes to America these techniques being used against the protesters in Egypt will be implemented against those United States citizens unwilling to comply with orders.