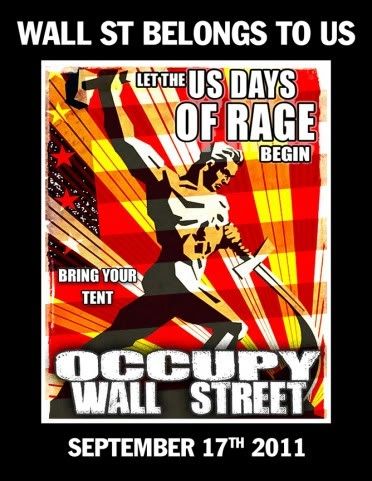 Media Ignores Days of Rage Violence
Would you be surprised to learn that the Days of Rage protests to Occupy Wall Street are not only still going on, but they've also turned violent? That's because the national media is completely ignoring the story.

The protesters claim Police Brutality and the NYPD say they were enforcing a law on the books to maintain order in their city. If you ask me the following video shows the NYPD getting a bit out of control, but I feel I might have a different view if the actions before the arrests that were cut out were left in.
Imagine if a Tea Party protest erupted into clashes with police and protesters interfering with arrests? Media Matters would make photos of that eruption their screensaver!

No one is talking about this unless they are online! Okay, the local news in New York covered it, but when will the rest of the media? (Continue reading this story).
Tags: day of rage, day of rage us, day of rage wall street, anonymous, anonymous occupy wall street, anonymous protest, anonymous wall street protest, occupy wall street, occupy wall street begins, occupy wall street ends, occupy wall st, occupywallstreet, takewallstreet, take wall street, wall street protests, nyc protest, nyc protest calendar, protest nyc, protest, new york protest, protest in nyc, demonstration, yahoo occupy wall street, wall street yahoo, american revolution, american revolutionary, revolutionary american, revolution, police brutality, riot, riots, protest on wall street, wall street demonstration, wall st protest, protest wall street, wall street protest, wallstreet protest