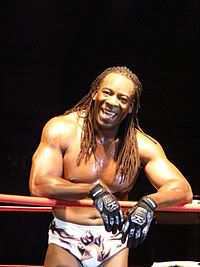 WWE Booker T Endorses Herman Cain for President
During a match on SyFy Channels WWE Smackdown the action in the ring was not the only excitement in the air. While the announcing team followed closely to every move that was made in the fight between Christian and C.M. Punk one commentator almost stopped the show when he wittily blurted out, "I like Herman Cain, he's my guy". Looks like we know where at least one entertainer/sports professional stands on the upcoming elections. Another WWE announcer, Michael Cole, quickly moved away from the topic.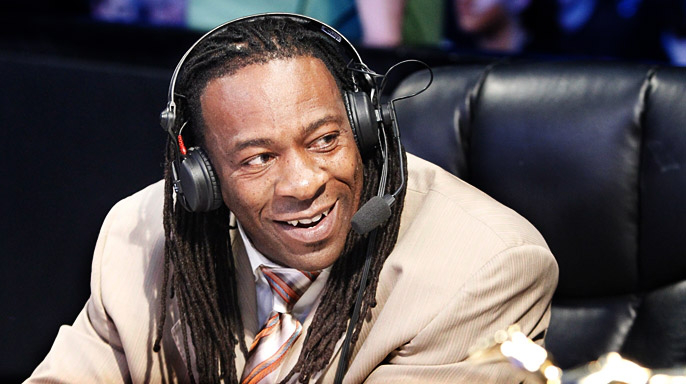 Robert Booker Tio Huffman, better known by his ring name Booker T, is an American professional wrestler and color commentator, currently signed to WWE, on its SmackDown brand, as part of the announcing team, working as a commentator. Booker is best known for his time in both the World Wrestling Federation (WWF)/WWE and World Championship Wrestling (WCW). He has also worked for Total Nonstop Action Wrestling (TNA). Huffman is the most decorated black wrestler in history, having held thirty-five major titles within the WWE, WCW and TNA. He is a six-time world champion: a four-time WCW World Heavyweight Champion in WCW, and a one-time WCW Champion and one-time World Heavyweight Champion in the WWF/WWE.
Listen close (audio is low), the exchange begins at 2:09:
At the 2011 WWE Capitol Punishment PPV a mock press conference allowed many of the members in the WWE locker room to creatively express themselves in regards to the president. Booker T was heavily involved in the joke and seemed to hold President Obama in high regard, at one point referring to him as one of his heroes. With this show of strength in support of Barack Obama in the past is one of the reasons Booker T's comment about being behind Herman Cain is so shocking.

Booker T is known for being a master at sliding "brand recognition" into his WWE commentary. Constant references to his "fave five" alone is responsible for millions in cellphone related sales! Knowing that, there is no way Booker T made hi endorsement of Herman Cain lightly, or by mistake.

In the past WWE has been a leader in political support. Every year they generously host special events for our troops and often invite people of political influence to have guest spots on their programs. They even reflect current events within the storylines their characters portray. Seeing as how the WWE has had such an active political history I would like to encourage them to host a debate on their show. Just imagine a tag team of Herman Cain and Booker T vs. Obama and the Challenger of his choice? Now that would be a debate everyone would tune into! I have included all the WWE contact info below in case you would like to contact them to support my idea for such a debate.

World Wrestling Entertainment, Inc.
Attention: Smackdown Division
1241 East Main Street
Stamford, CT 06902

Robert Booker Tio Huffman
"Booker T"
C/O WWE
1241 East Main Street
Stamford, CT 06902

E-Mail Form

Voice: (203) 352-8600
Fax: (203) 353-5029