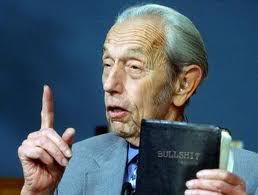 Radio Prophet Harold Camping Disappears from Airwaves on New Judgment Day Eve
An evangelical broadcaster whose end-of-the-world prophecy earlier this year stirred a global media frenzy has vanished from the public eye and airwaves ahead of his recalibrated doomsday date, set for Friday.

Days after the apocalypse he originally predicted for May 21 conspicuously failed to materialize, Harold Camping emerged from a brief seclusion to say he had merely miscalculated by five months, and he pronounced a new Judgment Day, October 21.

The following month, the now 90-year-old former civil engineer was said by his California-based Christian radio network to have suffered a stroke that left him hospitalized.

He has largely dropped out of sight since then, and his daily radio program, "Open Forum," broadcast on more than 60 U.S. stations, has been canceled.

Moreover, there is little evidence that swarms of believers who once fanned out in cities nationwide with placards advertising Camping's message -- some giving up life savings in anticipation of being swept into heaven -- were following a new doomsday countdown.

Gone, too, are the billboards posted around the country by Camping's Family Radio network declaring that Judgment Day was at hand. (Continue reading this story).
Tags: Harold Camping, Camping, evangelical broadcaster, Judgment Day, October 21, apocalypse, end times, end of times, last days, rapture, the rapture, false prophet, radio, radio show, christian radio, doomsday, doomsday countdown, family radio, Family Radio network, christianity, god, heaven