PSCPets Joint Support for Dogs
Dogs in our family are FAMILY! Baby Blu, my Multiple Sclerosis (MS) service dog, runs my house like the Queen rules England! Sir Duke, my son Xander's BIG buddy, protects the house like a Studio 54 bouncer! And there's Isha, my grandson Gauge's puppy, who could power a nuclear reactor with all of her energy! Whew, I sure could use some of that, lol. They definitely keep things interesting.
They are all three unique and yet they all have had problems, be it temporary or chronic, with joint pain. Another thing they all three have in common is that PSCPets Joint Support for Dogs helped them control their arthritis and ultimately their pain, but we will talk about that a little bit more later.
The easiest way to explain arthritis (joint pain) is to say that it is what they call it when the joints swell up or inflame. Baby Blu gets it in her back legs (knees and hips), Sir Duke gets it everywhere, and Isha (knees) only gets it sometimes but it depends on the weather. Both humans and animals can suffer from it, and suffer they do!
Arthritis in a dog can be caused by bunches of different things, like; infections (like from a tick), immune-mediated diseases, autoimmune disease (like my MS, but dogs don't get MS!) , trauma, or even metabolic issues. The most common form of arthritis in dogs is due to degenerative changes caused by age or overuse of their joints. All dogs of all ages and all breeds can develop arthritis, but certain factors increase a dog's risk. Large breeds, such as; Greyhounds, Labrador Retrievers, Great Danes, Golden Retrievers, and German Shepherds are more prone to arthritis. Obese dogs are also more likely to develop it than healthy in shape dogs. Additionally, older dogs are more susceptible to arthritis because of the years of wear and tear on their joints.
Isha, Baby Blu, and Sir Duke are all predisposed to having joint pain problems. This is one of many reasons we give them all a joint supplement for dogs. All of them have German Shepard in them, they are all BIG dogs (or at least they will be large dogs if they aren't already), and they are all three famous for eating badly. Okay, I might be kinda responsible for that (Baby Blu loves Pizza!) so let's skip over that. Shh! Lol!
Arthritis can be anywhere from mild to severe. It can flare up for short periods or be a constant in your furry friends life. Your four-legged friend may experience many different signs depending on the severity of his/her condition. The list below is comprised of "common" type things to look for in your pet that might help identify if they are suffering from arthritis, but YOU should know if your best friend is out-of-sorts. Many of OUR furry friend's symptoms weren't even on this list, but they weren't common issues either. Trust your instincts.
- Accidents inside the house.
- Depression or irritation without cause.
- Lameness in one or more limb.
- Licking (in excess) of the joint area.
- Loss of appetite or unusual weight gain.
- Muscles near to the joints wasting (becoming smaller).
- Popping and/or clicking when the joint moves.
- Slow to rise up from a sitting or lying position.
- Swollen joints.
- Unwillingness to walk, climb stairs, jump, or play.
- Whining, panting, or whimpering without cause.
To "officially" have your dog diagnosed with arthritis you will have to take him/her to a vet, but I've found that most pet stores now-a-days have "experts" on staff that can help at a substantial discount or even free.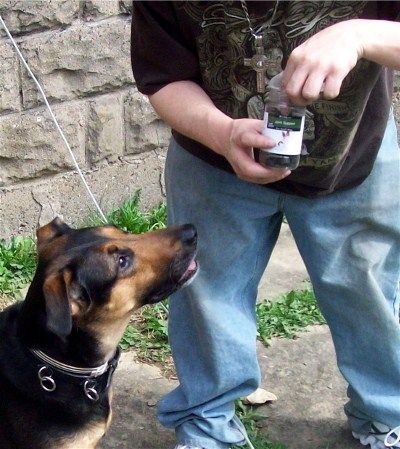 Vets can be very expensive, and even worse, painful, alternatives are worth the consideration. If you do choose a veterinarian be ready to hear BIG words like hip dysplasia, elbow dysplasia, knee dysplasia, osteoarthritis or degenerative joint disease (DJD). These are all forms of arthritis your dog can suffer from. Your veterinarian will want to perform a thorough physical exam to start off and take a complete history of your best friend. They will then perform a series of motion tests that with arthritis can be irritating at the least, excruciating at the most. If that does not answer all your vet's concerns they might keep your dog for observation. Observing your dog allows them to see their movement capability and flexibility. This can mean a stay overnight, and that coupled with pain can add to a dog's anxiety!
They may recommend additional testing as well; Blood Tests, X-Rays, MRIs, Joint Fluid Analysis, CT Scans, and/or more! It's important you find a diagnosis for Fido, but it's also important you don't break the bank doing it! The bill just goes up and up with every test. And to think, this all could be avoided with a simple supplement like PSCPets Joint Support for Dogs. It is a lot cheaper to prevent the issue than to fix the problem!
Once your dog has been diagnosed with arthritis, or you have determined that your furry friend is suffering from the disease, your veterinarian/pet store can recommend a treatment regimen tailored to your pet's specific needs.
Treatment recommendations may include:
Treating the underlying cause of arthritis (if possible).
Prescribing medications to help decrease the inflammation in the joint and control the pain. In some (mild) cases this will be a (temporary) dose of over-the-counter human Ibuprofen or Tylenol to control the pain. If you ask your vet they will often give you a list of human medications that are safe for animals. These lists are commonly available online as well, but be careful of their source.
Dietary management and proper nutrition if your dog is overweight is a no brainer. No more table scraps! Our dogs are not overweight but we still should not be doing this. We are so bad when it comes to this rule. Especially me. I feed the dogs just about anything!
Nutritional supplements are thought to help lubricate the joint and help rebuild joint cartilage. Joint support supplements for dogs are important for prevention and relief. If you have been reading closely you may have noticed me mention PSCPets Joint Support for Dogs a few times here and there. This is the joint support supplement we use for our furry friends. It contains a blend of ingredients that help to support healthy bones, joints, and surrounding tissues. This is exactly what they need.
When choosing any pet product it is essential you choose a brand you can trust. I use PSCPets products because they are trustworthy and they only use high quality ingredients. PSCPets Joint Support for Dogs contains glucosamine, chondroitin sulfate, manganese, and Vitamins E. If you do some research you learn quickly that these things are very important.
The first ingredient you need to be aware of is Glucosamine. It is important for your furry friend to get the right amount of Glucosamine so they can remain flexible, sustain healthy and resilient joints, avoid joint damage, and stop/slow the wear and tear of cartilage. Chondroitin naturally boosts the effectiveness of the Glucosamine. It is important to remember that PSCPets Joint Support for Dogs took into consideration your entire dog when developing this product. This means it contains added ingredients that help with overall health. Manganese has essential enzymes that are indispensable in the detoxification of damaging free radicals. Vitamin E is an important antioxidant involved in immune function.
Surgery for the very serious cases of dysplasia.
While not all forms of arthritis are preventable, you can help reduce your dog's risk, as well as the severity of the disease by ensuring your best friend gets plenty of appropriate exercise, eats properly, stops drinking tap water (reverse osmosis/purified/non-fluorinated water only), and takes PSCPets Joint Support for Dogs.
Isha, Sir Duke, and Baby Blu love PSCPets Joint Support for Dogs so much that they don't even need it to be disguised to eat it. They all beg for it like it's a treat! They are easy for Baby Blu to eat, even with her dental problems, and their consistency makes Sir Duke chew preventing him from swallowing whole causing a choking hazard. Isha likes to play with hers a bit before she eats it, but she is a puppy, and what kid do you know that doesn't play with their food? Lol!
All three of our dogs are living full and pain free lives. They have been running, playing, and jumping without hesitation. If Isha, Sir Duke, and Baby Blu could I know they would be selling PSCPets Joint Support for Dogs door to door like a tupperware lady! If you have a furry friend, of any size, any age, any breed, and in any stage of joint health PLEASE try PSCPets (ProbioticSmart.com) Joint Support for Dogs today!
Try PSCPets Joint Support for Dogs Today!
Available at PSCPets or Amazon or
DJ6ual's Recommended Products
I received one or more of the products mentioned above for free using Tomoson.com. Regardless, I only recommend products or services I use personally and believe will be good for my readers.