My One Cat and Two Dogs Recommend IntelliFlora
All of the furry friends in our home are rescues. That means that along with their cuteness and unconditional love they all came with their own special set of health issues.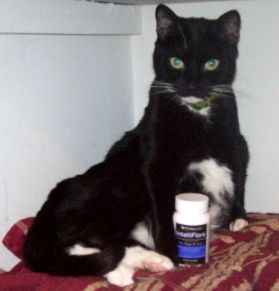 It started with our cat, Miss Princess BurnOut, who followed my sweetheart into the house one day when she couldn't find any food. She ate some tuna, warmed up by a heating vent, had a bunch of kids pet and snuggle her, and then just never left!
It wasn't long before we noticed that Miss Princess BurnOut would get sick to her tummy and vomit a little when she ate. After a trip to the veterinarian we learned that Miss Princess BurnOut suffered from acid reflux.
When it comes to veterinary expenses the bills can pile up fast and no one can afford more bills in this economy, but when it comes to the welfare of our pets no amount of money should spared. So my family and I started looking for ways to improve the health of our loved ones without breaking the bank! Afterall, if we are willing to take the time to better our own health and diet we should take the time to do so for our furry friends.
The next additions to our family came when I sent my significant other to the free vet clinic with my daughter. She needed to get her new puppy checked out for a little rash. Being that it was located inside an animal shelter I just knew somehow that I was going to be getting a new doggy that day. You see, my sweetheart used to work for animal rescue centers so he is always trying to save cute furry things! We adopted two dogs that day. A part Bullmastiff, Doberman Pincher, and German Shepard named Sir Duke and his mom a Doberman and Shepard mix named Queen Baby Blu.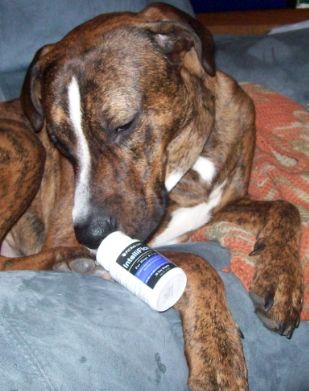 Originally we planned to find a different, but good, home for Sir Duke and only keep Queen Baby Blu. That idea didn't last long. We gave Sir Duke away twice, and twice he came back! You see he would get horrible separation anxiety being away from his mom and it caused diarrhea and problems with accidents inside the home. Even when we got him back and he felt safe again it would take a while before he would settle down and his stomach would let him get back to normal. He is almost a year old now and he still can't be away from his mom for more than a few minutes without showing signs of anxiety unless my son, Sir Duke's "buddy", is around.
My dog, Queen Baby Blu, has been training to be my Multiple Sclerosis (MS) service dog. Because we are together all of the time, I am guilty of spoiling her way to much! I feed her table scraps, special "mommy treats", and put yummy human food in her dinner bowl all the time. Unfortunately, that has made her a very, very, very picky eater! It also has caused her to become very susceptible to indigestion and food allergies. Indigestion and allergies in a dog can cause them to vomit and have loose stools. Needless to say, I have become much more careful about what all I share with the animals!

It wasn't until we came across IntelliFlora that we found a way to control all of these health problems for our pets without worry. IntelliFlora is a nutritional supplement designed for the dietary management of dogs and cats with digestive issues stemming from a variety of reasons such as food intolerances, allergies, those who experience stressful situations such as boarding or separation anxiety and antibiotic use. It comes in handy in our house more than you could possibly imagine.

It doesn't matter how small or large your furry friend is, they all get the same amount of IntelliFlora, and they all love the flavor just the same. That makes it really easy at feeding time! Everyone can eat from the same bottle. The price is as small as your kitten, and the result as huge as your horse! If you're lucky and your pet is overall healthy, IntelliFlora is simply good as an overall nutritional supplement and problem deterrent.
If you think about it we eat all kinds of yogurts, take probiotics, and follow crazy health food diets to improve our physical health all the time. Why shouldn't we give our animals a healthy nutritional supplement too? IntelliFlora offered by PSCPets.com contains a blend of four different bacterial strains including Enterococcus faecium, Lactobacillus acidophilus, Lactobacillus plantarum, and Lactobacillus rhamnosus (the leading brand only offers Enterococcus faecium). These four strains are instrumental in fortifying intestinal cells while inundating the bad, unhealthy bacteria present within your dog or cat's GI tract.
IntelliFlora also contains a variety of essential vitamins and nutrients including Vitamins C, A, E, Zinc, and Manganese…all of which are needed for your dog or cat's proper metabolism, vision, and immune system functioning. It's just like taking your multivitamin in the morning.
It didn't take but a few days to notice a difference in all of my animals after starting Intelliflora. They always think they are getting a "treat" when they see me getting out the bottle to add it to their food. Our whole family really owes a big debt of gratitude to Probioticsmart.com for providing us with IntelliFlora. If you have furry friends, our furry friends hope you will try IntelliFlora for them today!
Available at PSCPets or Amazon or
DJ6ual's Recommended Products
I received one or more of the products mentioned above for free using Tomoson.com. Regardless, I only recommend products or services I use personally and believe will be good for my readers.