Mirai Clinical presents… Less is More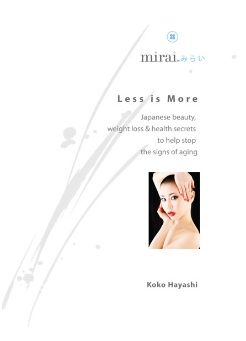 Less is More
Japanese Secrets to Stop the Signs of Aging
Do you desire a long and healthy life? Who wouldn't want a lifetime of beautiful skin? How would you like to lose weight without spending a dime on weight loss products?
Mirai Clinical has launched a new book "Less is More: Japanese Secrets to Stop the Signs of Aging," written by Mirai Founder and Japanese anti-aging guru, Koko Hayashi.
Why do Japanese women live longer, stay thinner and look 10 years younger than their western counterparts?

Koko Hayashi, Japanese anti-aging expert and Mirai Clinical Founder, introduces age-defying secrets with her lifestyle philosophy" "Less is more": Don't over-wash. Don't over-moisturize. Be wary of "miracle" skin care products!
Her helpful tips are easy to follow and integrate into your daily lifestyle. Start looking younger and feeling healthier today by practicing the "Less is More" approach to beauty and well-being.
"Less is More"
is Available for Purchase at
Mirai Clinical & Amazon!
I promise you that you will love this book! At the very least you will learn something you didn't know by the end. My two favorite chapters are Fat-Burning While Bathing & Shiitake, the Medical Mushroom. That's right, this book will teach you how to shed those unwanted pounds while in that relaxing bubble escape and getting clean! While you are at it you can relieve some of your ailments by eating some yummy mushrooms!
"Less is More" offers 43 chapters of easy to follow lifestyle tips, including ways to minimize facial wrinkles even as you read the book! If you want to look and feel 10 to 20 years younger, embrace the Japanese lifestyle philosophy of "Less is More", starting today!
Chapters: (view selected downloads)
Here Comes the Sun: Preparing Your First Line of Defense
UV Rays Cause 80% of Your Skin Damage

UV-Aging and UV-Burning

Jackie O's and Suncare

The Vitamin D Dilemma
Is Your Skin Care Regimen Aging You?
No-Cost Ways to Looking Younger
Eight Areas to Wash with Soap Every Day

How to Get Growth Hormones, Free

Don't Waste Elasticity on a Boring Guy

A Wrinkle-Free Face

Wrinkle-Free Hands

Wrinkle-Free Knees

A Wrinkle-Free Neck

A Wrinkle-Free Voice
Eat Your Way to Weight Loss
Portion Control, the Japanese Way

Eat Your Veggies First! Your Eating Order Matters

The 30-Foods-Per-Day Rule

The Benefit of "the Bento Box" Lunch

The Ninja Black Diet

Lose Weight by Staying Warm

Fat-Burning While Bathing
Your Dietary BFF's
Good Skin is the Sign of Good Health

Food as Medicine

Sushi is Not Just Tasty

Health & Beauty in a Cup of Green Tea

Edamame, A Menopause Super Food

Seaweed, the Edible Cosmetic

Shiitake, the Medical Mushroom

The Devil's Tongue

Soba, the Skinny Carb

Japanese Rice Crackers
Things You Don't Usually Think About
Your Pelvis, The Key to Fitness

Look Younger with the High-Fashion Walk

Anti-Aging Breast Care

Aging Body Odor: How to Fight the "Fragrance"

Anti-Aging Toilet Training

The Poop Test
When Less is More
Laughter for Optimal Health

Life Cleanse